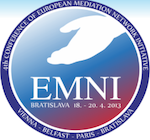 The European Mediation Network Initiative (EMNI) is organizing their 4th EMNI conference in Bratislava from 18 to 20 April 2013 in cooperation with their Slovakian partners and the Association of International Arbitration. With this conference mediators have another opportunity to meet colleagues and to continue the tradition of the EMNI conferences that we have started in Helsinki and continued in Vienna, Belfast, Paris and now in Bratislava. You can find more information about the Bratislava conference on our homepage EMNI.
 More mediations!
Do you know how to get more mediations? Learn during a workshop from a mediator/ marketing expert how she managed to get a successful mediation practice!
Strengthen your skills and knowledge!
Workshops on family mediation, workplace mediation, environmental mediation and other topics will contribute to deepening of your professional expertise. Do not miss it!
Latest insights in the use of psychology in mediation, techniques for precise listening, group mediation like the Matroesjka, will contribute to the mediator's effectiveness! Other topics include: Cultural specifics in the area of ADR
Factors of effective mediation – skills, personality, talent, gender questions, experiences, age, opponents, case, environment, process.
The importance of the person of the mediator, including mediation leadership will be addressed. And many, many more interesting topics!
Look for the website for more information in the coming weeks when panelists have been selected.
EMNI award
The first EMNI award will be launched during this 4th EMNI Conference for those who have contributed to the innovation and development of our profession or its further social awareness. Please candidate your favorite mediator and send an email to dr.berning@berning-hannover.de.
Low prices
In view of the crisis the Conference fee has been kept to a minimum: € 198 for early birds and a special fee for students of € 100. In view of the crisis a special low cost fee for participants from Eastern Europe can be .
Please contact Frantisek Kutlik fkconcept@gmail.com.
Beautiful Bratislava
Bratislava is beautiful and cheap: you can find a good hotel for just € 25 a day! Low cost flights through Vienna or directly to Bratislava facilitate your journey to this nice city along the Danube river.